BED BUG TREATMENT IN WINNSBORO SC/ FAIRFIELD COUNTY

Bed bugs can infest clean or dirty homes, they do not discriminate. Unfortunately, once bed bugs do infest your home or business in Winnsboro, it can be difficult to get rid of them. By the time you notice the first bed bug, you may already have an infestation. Because bed bugs like to hide in small areas of your home, are flat, and are usually active during the night time, they are very hard to exterminate without the right training. Columbia Certified Pest Control knows the best ways to exterminate bed bugs in Winnsboro. We use our effective bed bug heat treatment to get rid of bed bugs in your home or business once and for all.
HOW TO DETERMINE IF YOU HAVE BED BUGS IN WINNSBORO, SC
Identifying bed bugs is difficult if you don't know what you're looking for. In fact, you may not see any actual bedbugs, but you might see fecal matter, casings, bites, or dead bedbugs from their more active times. Bed bug fecal matter will look like small brown dots on your mattress or bedding. Bed bug bites, on the other hand, are noticeable itchy red bumps on your skin, and they look very similar to bites from fleas.
If you have seen one, or multiple, signs of bed bugs, it's a good idea to start looking for actual live bugs in the most common areas that they hide. Because bed bugs are so small and flat, they can hide in your bedding, carpets, dressers, closets, baseboards, and even under your box springs. They are tiny enough to hide in the smallest openings  in your home. If you do find small, flat, brown insects, there's a good chance you have bed bugs in your home. Having bed bugs doesn't mean you live in filth or squalor though, bed bugs hitch rides on people and follow them home no matter where they live or the condition of their house.
BED BUG HEAT TREATMENT IN WINNSBORO
The most effective way to exterminate bed bugs in Winnsboro is heat treatment. Bed bug heat treatment is able to kill bed bugs in any stage of their life cycle: Eggs, nymphs & adults alike are killed quickly from heat treatment. Also your home will be BED BUG FREE in ONE DAY! It also doesn't matter how large of a bed bug infestation you have, we treat the entire house by heating every room up to 140 degrees over about 8 hours. This makes sure to kill all of the bed bugs in your home, no matter where they are hiding. The best part is that our heat treatment doesn't ruin any clothing, bedding, or furniture that might have been infested, unlike traditional treatments that would require the destruction of any items that were infested. This means that our bed bug Treatments in Winnsboro will keep your belongings intact and save you time & money! Once we're finished, we will spray your home with an insect growth regulator to further guarantee the success of our service.  Plus one of the longest warranties in the area!
BED BUG EXTERMINATION FINANCING IN WINNSBORO
If you are facing a bed bug infestation, it can be important to get rid of them as quickly as possible even if you don't have the funds available immediately. We don't think lack of money should be a reason that you have to live in discomfort, which is why we have partnered with SweetPay to offer bed bug extermination payment plans for our customers in Winnsboro. Click below to learn more!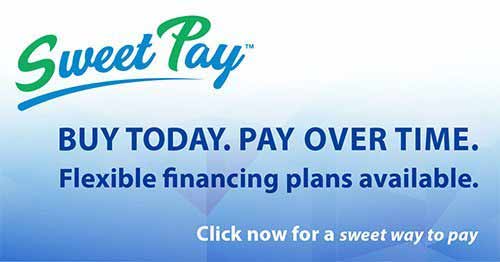 Pest Control in Winnsboro SC: 29810
If you need other pest control in Winnsboro, Columbia Certified Pest Control also provides termite extermination, cockroach pest control, mosquito control and more to residents and businesses all over Winnsboro and in the 29810 zip code, all year long!