Termite Control Columbia SC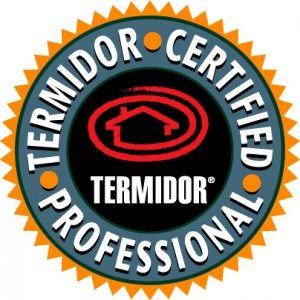 If you are looking for a Pest Control company that specializes in Termite Treatment, Columbia Certified Pest Control is the company for you. Our affordable Termite Treatment will eradicate your home from Termites. With our Termite removal, it will not only get rid of the termites but will destroy the whole colony to leave your home termite free and worry free.
Certified Liquid Termite Treatments in Columbia, SC
Columbia Certified Pest Control offers many termite control solutions. As one of the best exterminators in Columbia SC, we choose to recommend "Termidor" as our preferred termite treatment. Termidor is a "liquid treatment" and is applied to the foundation area and critical entry areas where termites are inhabiting. The product works as a barrier killing the termite as they come in contact with it. There is an additional benefit to using Termidor. The product is "slow acting" and when the termites come in contact with it they pick it up and take it back to the colony on their bodies. When these termites come in contact with other termites, they pass it on causing the elimination of a greater number of termites.
Termite Bond
Our Ten Year Termite Bond will let you rest easier knowing that your home is protected with Columbia Certified Pest Control Termite Bond. Our Termite Bond is affordable and better than affordable, it is efficient and effective. The Termite Bond is fully transferable and insured.
Termite Control Extermination Services & Pest Control Strategies for South Carolina
Certified Baiting
The other primary treatment option is baiting. The goal of a baiting program is to attract termites to bait stations placed around the foundation of the home or building and monitor them until the termites find the wooden bait material inside. At that point, the wooded bait material is switched to a specially prepared wood product containing a material that changes how the termites grow and develop. The ultimate goal is to feed the colony enough material so that the entire colony will die or the elimination of the colony is achieved. There has been extensive research surrounding the use of "baiting" and Columbia Certified Pest Control has broad experience with baiting.
There are other types of treatment options available too. They each have their benefits and drawbacks. It is our opinion that the use Termidor offers a more effective control option for our customers as well as the more economical option. If a homeowner should want to compare or question treatment options for your home, please feel free to have our Certified representative review each option and its pluses and minuses. Columbia Certified Pest Control is trained and has experience in both these and other options available in the industry.
Q: How difficult are termites to treat?
A: Termites are nearly impossible for homeowners to treat on their own. On the other hand, Columbia Certified Pest Control professionals have the training, expertise and technology to eliminate termite infestations.
Q: What are the different types of termite treatments?
A: There are two primary types of treatments available to Columbia Certified Pest Control customers: liquids and baits. Liquids are used around a home area to ensure long-term protection. Baits systems involve placing monitoring stations in the ground.
Q: What is the most effective type of termite treatment?
A: A trained and licensed Columbia Certified Pest Control Professional is the best person to make a recommendation for each particular property.
Pest Control Programs Available in Columbia, SC
At Columbia Certified Pest Control, we are committed to providing extermination programs that will suit your needs, all year long. Please take a look at the different programs that we're currently offering in Columbia and surrounding areas.