BED BUG EXTERMINATION PELION SC

Finding a bed bug infestation in your home is never pleasant. You can get bed bugs a number of different ways, but they are notorious for "hitch hiking" their way into your home. They can hitch a ride on you, your clothing, in purses, used furniture you may have purchased, and even in your luggage, if you have been somewhere with bed bugs. Once you have a bed bug problem it can be hard to get rid of them. This is because they are then and flat insects that can hide in even the smallest crevices in your home. Bed bug bites are irritating and uncomfortable, often causing minor swelling and itching in the area that you were bitten. Columbia Certified Pest Control provides high quality, affordable bed bug extermination in Pelion SC. Our team of bed bug exterminators in Pelion use a heat treatment that is highly effective in getting rid of bed bugs from your home or business.
IDENTIFYING BED BUGS IN PELION SC
Do you have bed bugs? It can be hard to tell if you aren't sure what to look for. Bed bugs are brown, flat creatures that like to hide in small cracks & crevices. Bedding, mattresses, carpets, clothing, dressers, and box springs are some of the normal areas that bed bugs may take up residence. If you notice dead shells of small brown, non-winged bugs in your mattress after you wake up, they could be crushed bed bugs that you rolled over on in your sleep. You might also notice itchy red bumps on your skin that indicate potential bed bug bites. There may also been brown spots on your sheets that might be fecal waste from bed bugs. If you have any of these signs of bed bugs, Columbia Certified Pest Control can come out and inspect for and exterminate bed bugs in Pelion SC. If the signs you are showing aren't bed bugs, you may have another type of infestation, either way, we will identify the issue and help you determine how to get rid of the pests you have in your home.
PELION BED BUG HEAT TREATMENT
When you have bed bugs, store bought chemicals and pest treatments often don't do the trick. Bed bugs are incredibly resilient and killing off bed bugs in one stage of the life-cycle might not solve your problem permanently. Columbia Certified Pest Control uses heat treatment to exterminate bed bugs in your home. Our bed bud pest control experts in Pelion will come to your home and heat the rooms in your home up to 140 degrees to make sure that the bed bugs are completely exterminated. Our bed bug heat treatment kills bed bug eggs, nymphs and adult bed bugs, which means that you won't have bed bugs come back after the treatment is complete. Using heat treatment also means that you don't need to get rid of your clothing, bedding, or furniture that might have been infested. When we finish up with our bed bug heat treatment, we will also apply an insect growth regulator, as a further guarantee that you wont have bed bug issues in the future.
PAYMENT PLANS FOR BED BUG EXTERMINATION IN PELION SC
It doesn't matter what your economic situation is, bed bugs are a problem you should deal with as quickly as possible. For this reason, Columbia Certified Pest control offers flexible bed bug extermination financing from sweet pay.  Click the image below and find out how we can help you get rid of your bed bugs in Pelion SC.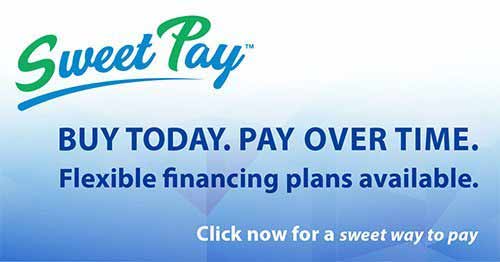 Bed Bug Extermination & Pest Control Services in Pelion SC: 29123
If you have bed bugs or other pest control needs in Pelion SC, 29123, let Columbia Certified Pest Control take care of the problem. We offer all of our extermination services in Pelion, year round.