Cockroach Extermination & Roach Pest Control in Columbia SC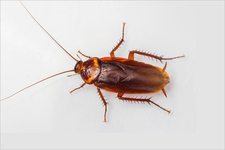 Roaches, Cockroaches, and Palmetto Bugs: These are all names given to one of the most resilient bugs in the world. In Columbia, SC, the most common kind of cockroach you might find in your home is known better as the German cockroach. You may also find Oriental roaches and American roaches in your home or business though. At Columbia Certified Pest Control, we understand that no one enjoys turning on a light only to see a little brown critter running away, it can be pretty startling. We are dedicated to ridding your home of insects and bugs so our expert pest control specialists are available for to perform on-demand extermination services as well as seasonal pest control programs.
Cockroach & Roach Pest Control From Columbia Certified Pest Control
Columbia Certified Pest Control wants to help you get rid of Cockroaches from your home in Columbia, SC. People may not know the extent of a cockroach infestation in their home, but for every roach you see, there are many more that you might not see. They have the ability to hide in walls, behind major appliances (like a refrigerator), in drains, and even above us in lights and ceilings. Because they breed and multiply quickly, it's possible that you might have an entire city of cockroaches living in your home. Store bought and other retail cockroach traps and treatments may help the problem, but they also might not get rid of all of your roaches. If you want the problem taken care of, you should hire a professional cockroach extermination services company, like Columbia Certified Pest Control.
Should I Be Worried If I Find Cockroaches in My House or Apartment?
Cockroaches certainly aren't a nice thing to find crawling through your home or apartment in Columbia, SC, but are they dangerous? The answer is that they can be. Roaches feed on almost anything, not just the food in our homes. It's not uncommon for cockroaches to feed on fecal matter, dead animals, and strands of fallen hair. Because they are feeding on these things, if they run over your food, they can easily contaminate it. Roaches are also carriers of Salmonella, and have been identified as the cause of food poisoning outbreaks in the past.
Most of the time, we think that roaches and cockroaches won't lead to any major problems, but there are also cases of people being allergic to these creepy critters. This is because their saliva carries allergens that can be harmful to humans. Asthma sufferers have also noticed that in homes that are infested with cockroaches, they are more likely to suffer an asthma attack.
Call The Best Cockroach Exterminators in Columbia, SC
Columbia Certified Pest Control offers cockroach extermination for your home in Columbia or surrounding areas. If we come out and treat your residence for roaches, and are not successful the first time, we'll come out again and get the job done right. That's a customer service guarantee that we promise, just check out our policies. We also have a number of specials and even a referral offer in case you have friends that might need a little pest control. Contact us online or give us a call at 803-764-7866 and get your free estimate on cock roach extermination or roach pest control in Columbia SC now!
Pest Control Programs Available in Columbia, SC
At Columbia Certified Pest Control, we are committed to providing extermination programs that will suit your needs, all year long. Please take a look at the different programs that we're currently offering in Columbia and surrounding areas.