Mosquito Pest Control Columbia SC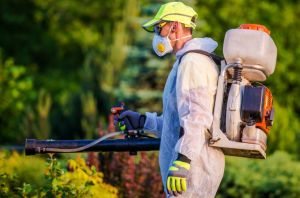 During Mosquito Season (April – September), most people like to enjoy their backyard with barbecues, pool parties, and a place for the kids to play. Mosquitoes can ruin a good time and literally run you out of your own yard!

At Columbia Certified Pest Control, we won't let you struggle for peace from the buzzing and scratching. Mosquito control in Columbia SC, is especially important because these pests can cause itchy bites, but also more serious health conditions like the spread of disease. Our team offers a number of pest control services, but also prioritizes mosquito control.
We use integrated mosquito management techniques to eliminate mosquitoes and other airborne pests from your yard and home. Our multi-step mosquito extermination program identifies mosquito habitats, eliminates the breeding group, removes larvae, and then we treat the high activity areas with our products that are proven to keep mosquitoes and other pests away.
Columbia Certified Pest Control Mosquito Protection
We've all been irritated by the itchiness of a mosquito bite. Whether it's a need for Columbia home mosquito control or your business ambiance, it's time for an intervention. In this regard, each mosquito protection strategy is unique to the problem and environment. The best mosquito killer options will be discussed with you, along with your budget and the other mosquito repellent preferences.
We'll explore a number of mosquito control options, including:
Mosquito traps

Natural mosquito repellent

Mosquito insecticide

Mosquito growth regulator

And More
Our Mosquito Control Programs in Columbia, SC:
Seasonal Mosquito Control Program: This is our best option for reducing the number of mosquitoes in your home and yard all season long. Each month an expert mosquito extermination specialist, from Columbia Certified Pest Control, will inspect your home or business and report on all of the mosquito problem areas and breeding sources. We will then treat the habitats and places where mosquito infestations can occur. Breeding areas, such as: Fences, under decks, bushes & vegetation, and other places with standing water or poor air circulation, will all be treated to reduce your mosquito problem. Should large numbers of mosquitoes persist, we return to fix the issue at no charge to you. For more information see our satisfaction policy.
One Time Mosquito Elimination Treatment: If you need to get rid of a mosquito problem quickly, perhaps for a party or a special event, our pest control and mosquito extermination team is ready to assist. Give us a call and we'll visit the property and come up with a strategy that is sure to keep your event mosquito free.
Why is Mosquito Protection Important for You
It is impossible to tell if mosquitoes are carrying a disease or not. There are many personal protections you can take, such as applying store bought mosquito repellent. However, professional pest control companies are expertly trained and know the best methods to reduce the spread of disease carrying mosquitoes. By treating your landscape and home foundation, the mosquito exterminators from Columbia Certified Pest Control, can reduce your mosquito population and the number of bites you will receive.
Don't sit restless and uncomfortable when Columbia Certified Pest Control can help!. Reach out online or by phone 803-764-7866 to find some peace with mosquito control at Columbia SC property. Don't forget to ask about our specials!
The mosquito control services of Columbia Certified Pest Control are available to residents in Blythewood, Irmo, Winnsboro, and in the surrounding areas of Columbia, SC. We look forward to working with you! Reach out by calling us at 803-764-7866 or contact us online or to get started today.
Pest Control Programs Available in Columbia, SC
At Columbia Certified Pest Control, we are committed to providing extermination programs that will suit your needs, all year long. Please take a look at the different programs that we're currently offering in Columbia and surrounding areas.