Columbia Certified Pest Control Termite Exterminators Lexington, SC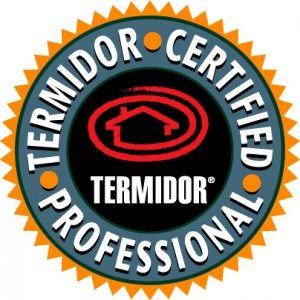 Certified Termite Control in Lexington, SC
There are nearly 2,000 known termite species in the world. Each year, termites cause more than $5 billion in property damage. That's where Columbia Certified Pest Control can help you if you live in Lexington, SC. We take the proper steps to ensure professional and affordable termite extermination services by our trained technicians. We are trained to seek out and exterminate any pesky termites you may have in your home or on your property in Lexington, SC.
Certified Liquid Termite Treatments in Lexington, SC
Columbia Certified Pest Control offers different options for termite control in Lexington, SC. One of our top recommendations is Certified Liquid Termite Treatment by Termidor. Termidor controls subterranean termites, including the extremely destructive Formosan subterranean termites, dampwood termites and dry-wood termites. One of our highly trained termite control technicians will apply a liquid treatment of Termidor along the foundation walls of your home to create a continuous termite treatment barrier. As the termites try to eat through this treated zone they will then become infected with the poison, killing off the infestation quickly. Termidor is not available for homeowners to purchase. . It is only available to certified licensed technicians, who have taken Termidor Certification Training as our technicians have here at Columbia Certified Pest Control in Lexington, SC.
Certified Baiting Treatment for Termite Extermination in Lexington, SC
Termite baits are a different method we may employ to exterminate termites in Lexington, SC. Columbia Certified Pest Control offers this to you at an affordable cost. With the termite baiting approach, small amounts of material knocks out entire populations of termites, that may be foraging in and around your home or property. As the termites find and start to feed on the termite food in the bait station, we switch it out to a poison that is deadly to termites. This slow acting poison insures transmission of the lethal agent to other termites in the colony, including those that never fed on the bait by interaction with those that have. Columbia Certified Pest Control in, Lexington SC, has the training and experience you want to deploy an effective and affordable termite baiting strategy for your home.
Contact Columbia Certified Pest Control in Lexington, SC
If you suspect that you may have a termite infestation, but aren't sure, we can do a termite inspection for your home and provide you with a CL-100 Termite Letter. If you are sure that you have an infestation, contact us online or call us at 803-764-7866 and let us give you a free estimate on termite treatment costs.
Pest Control Programs Available in Lexington, SC
At Columbia Certified Pest Control, we are committed to providing extermination programs that will suit your needs, all year long. Please take a look at the different programs that we're currently offering in Columbia and surrounding areas.