Termite Extermination Professionals West Columbia, SC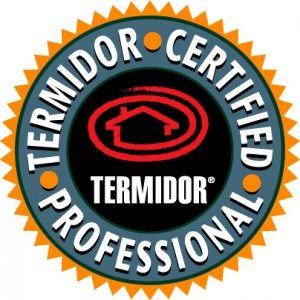 Signs You Need Termite Control In West Columbia, SC
Termites are also known as "Silent Destroyers". Although the wood damage they create may not be as flashy as you might see in a fire, the slow methodical destruction, caused by termites, is still damaging and can be extremely costly. Signs of these wood devouring pests in West Columbia, SC may include, wood that sounds hollow when tapped on or wings that have been discarded by swarming termites.
Professional Termite Treatments in West Columbia, SC
At Columbia Certified Pest Control, we bring you the most efficient. reliable and economical termite extermination plans.  As leading exterminators in West Columbia, SC, often times we will recommend "Termidor".  Termidor is a "liquid treatment" and is America's #1 termite defense product. When applied by our certified Columbia termite control Technicians to the foundation area and critical entry areas where termites are inhabiting, Liquid Termidor works as a barrier killing the termites as they consume the treated materials. However, Termidor does not stop there. The product is slow acting, and as the Termites go about their daily routine they spread the treatment to other termites. When they finally head back to their colony, the Termidor treatment spreads like wildfire, destroying large numbers of termites with just one application.
Certified Baiting Termite Treatments
From time to time, we may also recommend the use of certified baiting. Our professional termite exterminators will bait termites so they can monitor the severity of the termite infestation. Our technician will first attract termites to bait stations, which we place around the foundation of your West Columbia home. Once the termites in a colony have found the baited stations, we switch the bait with treated wood that is deadly to termites. When the colony begins to feed on the bait, it starts to change the ways the termites grow and develop. Ultimately, the colony eats so much of the baited material that the whole colony will die off. Columbia Certified Pest Control is trained and has the experience you want for baiting termites.
Contact Columbia Certified Pest Control in West Columbia Today
We understand that no two termite infestations are the same, that's why when we come out, we'll do a thorough inspection of your home or business in West Columbia. This will give us critical information to help us decide which termite treatment is going to work best for your situation. Once we've inspected your home, we'll make recommendations to you that will not only be affordable, but will be the best termite control in the area. contact us online or call us at 803-764-7866 and let us give you a free estimate today!
Pest Control Programs Available in West Columbia, SC
At Columbia Certified Pest Control, we are committed to providing extermination programs that will suit your needs, all year long. Please take a look at the different programs that we're currently offering in West Columbia and surrounding areas.