Four Myths About Bed Bugs!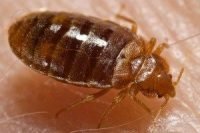 The Unitied States saw few bed bug cases between 1940-1990's.  Bed Bugs have made a come back and now people are cautious about bed bugs from staying at popular hotels to visiting friends.  Below are some Myths about Bed Bugs.
#1 Bed Bugs live in big cities like New York and Los Angeles
False.  Bed bugs are in every US city including COLUMBIA SC.
2#Bed bugs can fly and have wings.
False.  Bed Bugs can only crawl.
#3 Bedbugs transmit diseases to when I get bit by one.
False.  There have been no reporst of bed bugs transmitting disease to humans.
#4  Chemicals and Pesticides are the most effective treatment to get rid of bed bugs.
False.  Heat Treatment is the only way to 100% kill bed bug.
#5   I'm staying at a 5 star hotels.  They surely won't have bed bugs.
False. Bed bugs do not discriminate.  5 star hotels and 1 star hotels can have bed bugs.
Keep checking back with us to learn more myths about bed bugs.
Pest Control Programs Available in Columbia, SC
At Columbia Certified Pest Control, we are committed to providing extermination programs that will suit your needs, all year long. Please take a look at the different programs that we're currently offering in Columbia and surrounding areas.